The Generative Leadership Program™ (GLP) is designed to fill the gaps in the foundations of traditional management understanding. It leverages and strengthens the competencies and skills that you already have, and gives successful executives and managers a foundation for elevating their own and their team's performance to new levels. It provides the foundation for increased performance through new paradigms, a focus on building skills through practice, and learning experientially through your actual work and life commitments.
This is an opportunity for leaders, executives, teams, and managers to create more effective organizations. GLP is designed to enable you to take your leadership impact and the performance of your organization to the next level. By participating in GLP you will emerge from the experience with a permanent new way to see action and opportunity in the world and with enhanced power to produce extraordinary results.
Sam Ramji
VP Strategy
This course is for the practicing professional. I was promoted five times in the three years that I was studying with IGL. The program would be worth ten times its cost.
Watch the video for the complete testimonial
This program goes beyond traditional management learning and teaching to focus on:
New Paradigms of Action, Coordination, and Learning – Produce a new way to see the world, action, and management with a new paradigm. Learn how action and coordination is shaped by conversation and commitment. Enter a more powerful framework of embodied learning through practice, going beyond just understanding.
Practice, not just Theory – Focus on the competent execution of new action-based practices of management which strengthen your ability to see what to do and get it done in your organization. Relevance and Impact – you are guided to apply these practices in your work to improve your and your team's effectiveness.
Feedback and Coaching – Receive personal coaching twice a month on your challenges and issues in leadership and management on the job.
Replacing Old Habits with New – Learn how to go beyond what has previously been difficult for you and to produce new, more effective management habits.
Management from Strategy to Execution – Learn new interpretations and skills for leadership, team building, planning and projects, as well as for design and innovation – turning vision into effective action.
This new approach to learning and management practice is based on the advances of leading thinkers of this century. The approach has been developed and refined in dozens of companies and with hundreds of managers over the last eighteen years. Current participants include CEOs, COOs, managing directors, business founders, entrepreneurs, managers, and entire management teams.
Upcoming GL Conferences
October 18-21, 2018 – Boulder, CO
January 24-27, 2019 – San Diego, CA
June 6-9, 2019 – Westminster, CO
3 Steps to Generative Leadership
If you are ready to take your leadership impact and the performance of your business or new venture to a new level we invite you to explore the possibilities and promises provided by the Generative Leadership Program (GLP).
Step 1 FGL
Foundations of Generative Leadership
Step 2 EGL
Excellence in Generative Leadership
Step 3 GLP
Generative Leadership Program
What do you Get in GLP?
Excellence in Generative Leadership – Key Foundational Practices as part of GLP
Initiating the Practice of Practice – 1 week
Practice 1: Care Conversation – 2 Weeks
Practice 2: Conversation for Action – 4 weeks – Coordinate Action and Results
Practice 3: Reporting on a Promise (customer and performer) – 3 Weeks
Practice 4: Making Assessments about Assessments – 1 Week
Practice 5: Trust – 1 Week
Practice 6: Breakdown Management – 3 Weeks
Consolidation and Next Steps – 2 weeks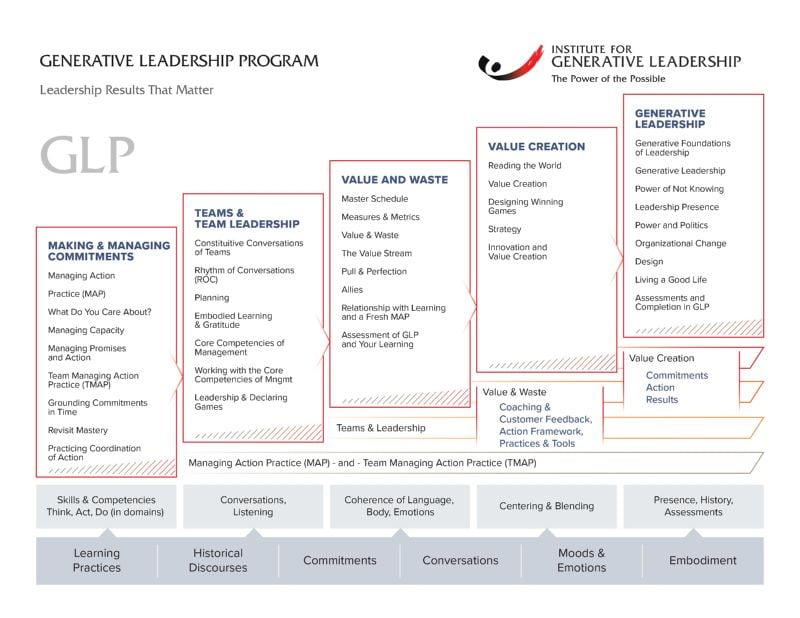 Generative Leadership Program (GLP) – Professional Leadership Development
Managing Commitments, Managing Results
Managing Action Practice (MAP) – managing multiple major commitments
Managing Capacity – avoiding and getting out of overwhelm
Projects – Team Managing Action Practice (TMAP) – managing team promises
Grounding Commitments in Time – manage the promises, not just the time
The Path to Mastery – what are you mastering?
Leading Teams and Team Leadership – the key conversations
Rhythms of Conversation – the key rhythms of work and teamwork
Planning – commitment based planning
Managing Energy – the right action takes the right energy; rest and renewal
Embodied Learning – focus on practice, not just understanding
Core Competencies of Management – the 5 key domains and standards
Core Competencies Assessments – and development plans
Leadership and Declaring Games – games as the structure of action and success
Embodiment of Leadership –full-body presence beyond just understanding
Managing Value & Waste
Master Scheduling – how to see the big picture
Measures & Metrics – the design of what to pay attention to that guides decisions
Lean – Value and Waste – the key aspects of process improvement and design
The Value Stream – seeing how value is created in your processes
Value Flow – what makes high coordination processes
Pull and Perfection – principles of process design
Allies – it takes more than your own team to do big things – you need alliances
A Fresh Look – how are you learning? Look again at your world with new eyes
Self-Assessment – are you managing?
Value Creation
Reading the World – see the trends, innovations, threats and opportunities
Living a Good Life – how to integrate work into a good life
Generative Leadership – the 19 key principles and practices
Innovation and Value Creation – demystify innovation and value creation
Value Creation – what it is and how to do it
Designing Winning Games – beyond just working harder
Strategy – what it is, how to do it – the strategy conversation
Generative Leadership
The Generative Foundations of Leadership – where leadership comes from
The Responsibilities of a Leader – to lead is to have power – you must use it well
Power of Not Knowing – not knowing is the start of action, not the barrier to it
Organizational Change – requires the right conversation at the right time
Leadership Presence – can be developed with practice
Power and Politics – these are unavoidable, not bad;
Reflections and Completion –– are you ready?
Your 3 Steps to Generative Leadership

Early Bird Price

FGL

3 days

EGL

4 Months

GLP

8 Months

Total

1 Year Total

Save $300

1295

3600

6000

=$10,895

10,595

Save $300 on the FGL

4500

Purchase FGL and EGL together and save $395

6000

=$10,500

Save $395

10,200

Save $695 on the FGL+EGL

9750

Purchase FGL, EGL, and GLP together and save $1145

9,750

Save $1145
(includes 1 year discount of $200)

9,450

Save $1445 on
the FGL+EGL+GLP bundle
Ready to Take the Next Generative Step or Want to Learn More?
email us at – info@generateleadership.com