July 2021 Community Happenings
July 2021
This month's Community Happenings' focus is on YOUR community members. Welcome!
The objective of this monthly check-in is to bring you ideas, inspirations, and different ways to engage, including collaborating with members of our community. My intention is to grow our community through creating collaborative spaces and creating higher engagement in our live leadership sessions throughout the year.
Enjoy!
Let's Celebrate
I always like to start with a good celebration.
What are we celebrating? Our community, more specifically, students who have certified! This month, we celebrated 11 students certifying. IGL US has run a traditional dojo format. Students of varying levels of learning are in a community of learning together. This past March with incoming students, we initiated cohort-based teams, where each team member is working at the same pace and sharing the promise together. We have joined forces with our English-speaking counterparts: IGL Asia and IGL UK to offer training together. We follow a similar format to our Spanish-speaking affiliate and partners IGL Latin America (ie. IGL LATAM).
We celebrate members of our community who have demonstrated the embodiment of managing and making promises and really working that edge!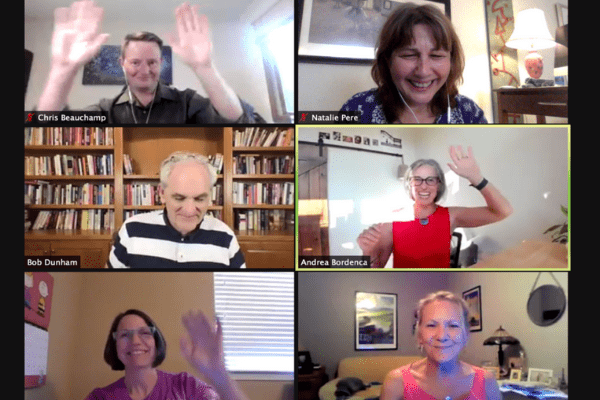 First, hats off to Bruce Peterson!
Bruce shared gratitude for shifts in both professional and personal lives and connecting deeply to what matters. He paid a special, "thank you," to Kim Frerichs, one of our amazing Generative Coaches! Bruce said it well, "I love this community." Me too! Congratulations for a year of showing up and stepping in, Bruce.
Next, we celebrate Christine Rose!
Christine was recently acknowledged with a Lifetime Achievement Award, a book publication, and deems this past year a transformational one. Christine has learned how to zoom out in her thinking and zoom back in with choice and design.
One key takeaway for Christine is shifting from overwhelm. This is an indicator that she is clear on her promises and taking actions that take care of her promises, rather than being in busy-ness. Christine stated it perfectly, "I am creating the good life." Well done, Christine!
And all the way from Singapore, a leader who has stayed up through the night in full engagement in her learning, Christine Wu!
Christine commented that IGL has revealed, "my strength, transformed my life… to be an offer." She has had major breakthroughs in her learning and expressing moods and emotions. Congratulations for showing up as an offer at work, Christine, and thank you for showing rigor and commitment to learning!
And a BIG WAY TO GO and THANK YOU to Eduardo Seidenthal! Edu has accompanied me in design conversations and has offered his lens for producing a rich experience virtually.
Eduardo has brought opportunities to IGL to help us grow, and we are delighted to be with you on this path. Edu has taught me the meaning and experience of Ubuntu, an African philosophy, "I am because you are." If we want to live in a world in which everyone thrives, seeking understanding and connecting to care is what will get us there.
For Edu, IGL "has been a fantastic journey, this is Ubuntu…I'm designing my good life." For Eduardo, IGL has been the "foundation to put all this in practice." Way to be, Edu!
Next up is DESCO employee and IGL Student extraordinaire, Cecilia Batista!
Cecilia has brought her learning to all domains of her life and continues to practice within DESCO's internal Generative Learning Team, a community of learners who come together each month at work to share their learning and application of Generative Leadership and Learning. Through this learning, Cecilia has made bigger offers and is playing a new role within DESCO. All in all, Cecilia sums her learning up by saying, "It has been an amazing journey, learning how to recreate myself." Let's keep playing at our edge together.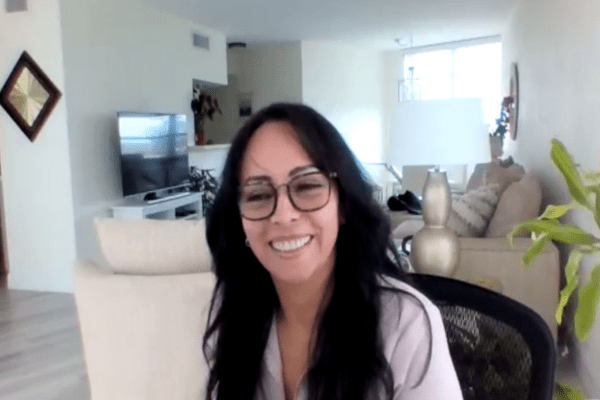 Happy Certification, Hirendra (Harry) Patel, a leader who has overcome fear and how to "maintain balance in my personal and professional life."
He attributes his success to "learning somatic practices such as centering and blending." In sum, "I am a better person today because of this journey." Well said, and I feel the same. Thank you, Harry, for the breakdowns you learned to declare and the commitment you are to your life and leadership.
Congrats to Ale Solano
Ale recognized that overcoming fear and practicing at her edge allowed her to make new offers for her clients. Something Ale shared that was powerful is, "Now I operate from possibility and hope." She acknowledged her coach, Gail MacDonald, for meeting her where she was at and to Bob for his mastery in creating Generative Leadership.
At IGL, we provide the practices to develop leadership and team alignment skills. We had the opportunity to witness a learning team celebrate their certification promise together. An opportunity that is available at IGL is learning the messiness of forming a team. It requires different phases of development so that a clear shared vision and promise is created that connects to care.
Marta Magnus, Michael Sanders, Lorna Gober, and Duane Spivey shared their experience of moving through the peaks and troughs of creating a team.
They even created a live artful demonstration of their experience. Thank you for the creativity and for showing that team alignment takes getting off track, breakdowns, and connecting to care for a promise to be fulfilled.
Natalie captured a picture of a satisfied Lorna sharing her experience.
Lorna Gober expressed that she is "filled with Gratitude for the entire community."
Lorna learned "to be a dignified beginner, an opportunity to explore blindspots, breakdowns, find my center, and really settle in and be comfortable in that center."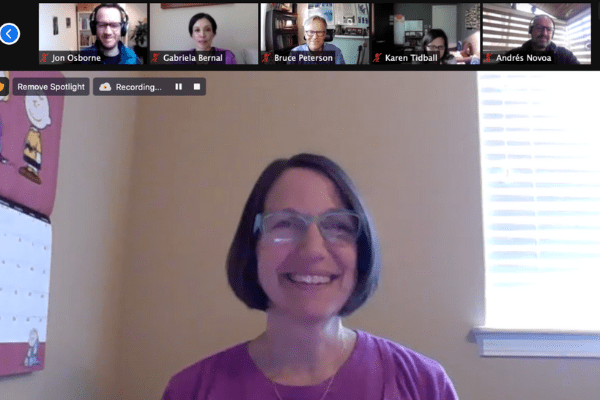 And I commend Duane Spivey, a faculty member and practitioner of Generative Leadership for making powerful offers.
Duane has contributed to IGL and has been a significant contributor to our growth in sales because of our learning from him. Duane continues to make bigger offers and expressed how his learning team stood beside him and "sometimes pulling me, pushing me," but mostly " being here with me."  
Marta Magnus is a leader and coach who has contributed to IGL LATAM, in addition to IGL US.
Marta is learning "how to be, not to do" and that by contributing her experience and thoughts can be enough. Something that many students seek is more spaciousness with a shift away from overwhelm; Marta is finding that space and learning how to "connect with joy." Kudos to you, Marta, and thank you for all you have contributed to our team.
We also celebrated Michael Sanders. Michael is playing in a BIG way in our community.
He has created new and bigger promises and continues to show up for his own learning and growth, and also in support of IGL's growth. Thank you, Michael, for the offer that you are.
You!
We have a survey! Yay surveys! We have been speculating with many of you different ways to take care of our ecosystem and to increase engagement. This is a part of our commitment to design with you for you. The link to the survey is here.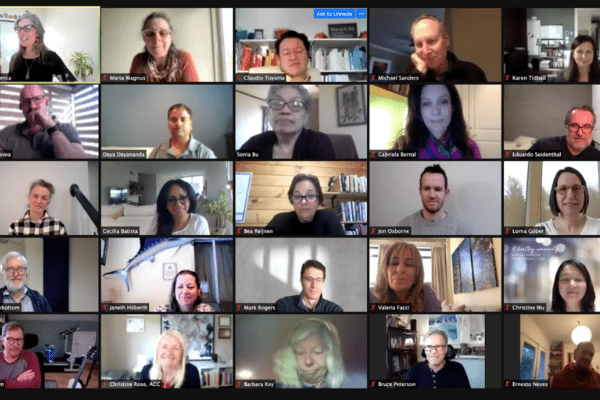 Us!
As you know by now, we launched IGL US Consulting in partnership with IGL LATAM and IGL Asia & UK. We're delighted to report that we've reached over 20 US-based organizations, including school districts within this past year. IGL US continues to grow and provide opportunities to both students and grads. 
If you have a bigger offer you want to make with a client, let us know. We will accompany you on your path and help you make a bigger offer. There are also ways to be a part of the offers we are making in the corporate solutions we are making. Do stay connected with us.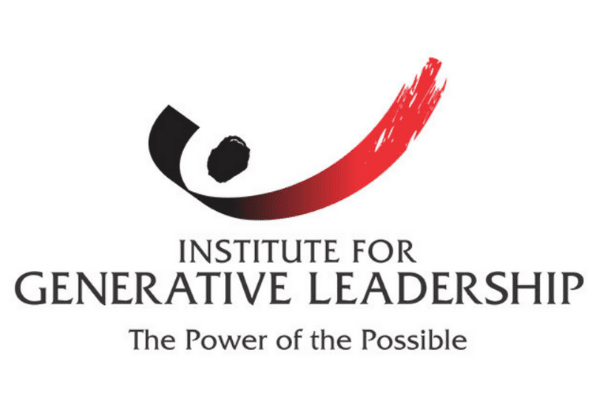 Connect with Us
Do you follow us? If not, check us out on Instagram @generateleadership. Would you like us to spotlight you? Reach out and let us know! You can write to this email abordenca@generativeleadership.co
Would you like to be featured in a future publication? Email Andrea above and she can let you know what we are looking for and see if this is a good fit for you!
At IGL Global, we are committed to creating a world in which everyone thrives, including the children of our children. We are fueled by our care to create a movement that brings the human being to the center of leadership. The generative discourse brings a higher level of awareness to us that we can create more meaning, value, and satisfaction in our worlds.
We are looking to connect people to others to build our network of help and to create bigger promises. Is there anyone within your network that would benefit from the learning we offer? If so, do share this with any and all people in your network!