January 2022 Community Happenings
January 2022
Welcome!
First, in honor of the boldness and courage that Suzanne Zeman embodied, I have named the theme of this month's correspondence "BRING IT." Suzanne passed away on January 19th and is a generative legacy. We will be gathering in remembrance of her virtually, do stay tuned for that.
In the spirit of Suzanne and in reflection of where we are in the calendar year, how are you "Bringing IT"? This is an opportunity to reflect on your start of the year. Below, I offer some questions of reflection and an invitation to design your GOOD life. We are here to accompany you, you are a member of our community, and for that we are grateful.
In gratitude,
Andrea and your IGL Community
Before We Launch in….
What do you bring to this moment? It is the first month of the new year! Perhaps you are reading this a bit beyond January. Regardless, New Year's Eve may seem like ages ago! How are you bringing you to the new year? Is the spirit, is the mood, is the design of your month, year, life conscious and generative, or have you been sucked into the drift of obligation or others' expectation?
At IGL, we design a good life based on what matters to us and how we align with others who share the same commitments.
IGL practitioners meet regularly across the globe. We are extending and growing our reach. A part of our learning and exploration is reflection and creating pauses. Here is one that comes directly from one of our Generative Leadership Conferences:
When it comes to the teams you are in, including family, as well as your professional teams, what are:
Dissatisfactions
Blindnesses
Concerns
Opportunities
Breakdowns
This can serve as the beginning of design. First, pause to reflect and find your center. Where are YOU dissatisfied? Another way to look at this, where is there activity vs meaningful connection and engagement? From that lens, how would you answer the questions above?
OK! Setting the stage, let's see how others within your community are designing their lives with their generative practices:
Announcements
1. A heartfelt "Congratulations" for BRINGING IT! to GLP Alum, Barbara Key, and her co-author Linda Alepin on the publication of their book: Shifting Context: Leadership Springs from Within (will be available in paperback on Amazon soon). In the meantime, co-authors Barbara Key and Linda Alepin invite you to join the LIVE virtual book launch on February 4th (Rosa Parks Day) from
11 am -12:30 pm ET / 8 – 9:30 am PT. Register here.
This book answers the question "How does leadership spring from within?" and offers true stories of sheroes and heroes from around the world that demonstrate how to bring about real social change. It makes the invisible visible by looking behind the actions of leaders to expose the generative distinctions that made them successful.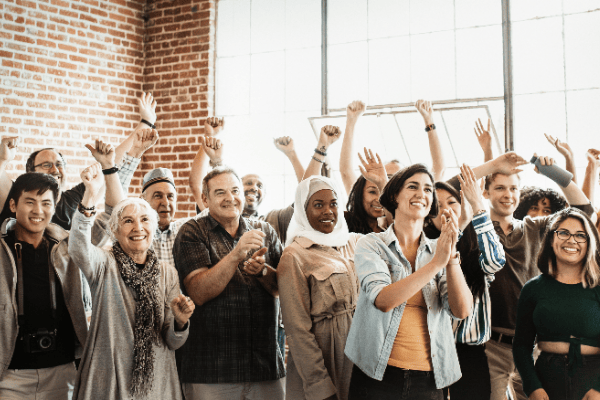 2. And, kudos and celebration to Christine Rose, a current CEO year 2 student bringing her voice to the world. Christine has released an updated edition of Life Beyond #MeToo: Creating a Safer World for Our Mothers, Daughters, Sisters & Friends – on Amazon now. She includes a video interview with Jack Canfield about the book. Please check out her book and write a review on Amazon.
3. We are rich in resources for you! If you are looking to grow your business, we have a generative, practice-based approach. If not you, do share with the sales professionals on your team. The promise of this resource is, at least, 20% growth: Generative Business Development (GBD) is a digital, self-paced course that has application skills to increase your revenue. Purchase this digital course for $495 here.
4. Looking for ways to bring your clients or employees to Generative Learning? We have a couple of 10-week courses on Power and Strategy coming up in April that Sameer Dua is leading. This is for those new to Generative Leadership. A brief overview and USD pricing are below. The link to learn more about the programs is here.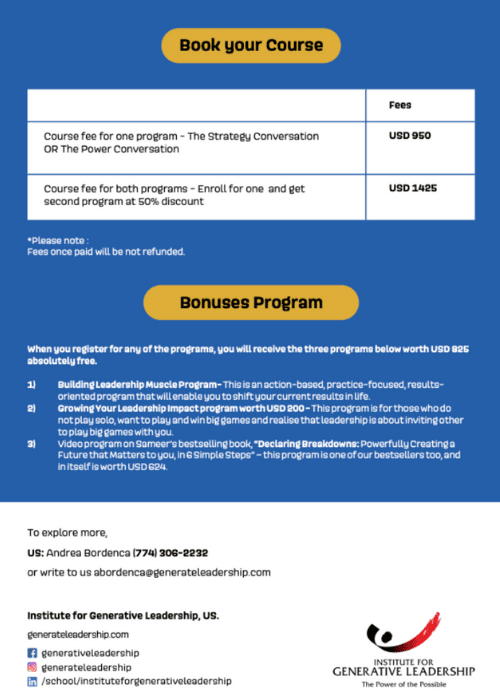 5. For all! If you haven't yet joined and don't wanna miss out, do join our Generative social network group! Sign up to join here.
6. We are DELIGHTED to let you know that Offers Lab is now a public offer! It used to be for alum and current students. If you seek a place to practice and deepen the embodiment to make offers of value in the world, join us! Jon Osborne is a masterful facilitator and is a practiced and committed Generative Practitioner and Coach. Check out his space of invitation and exploration with others who are open to being at a new EDGE. Emails with the next opportunity are forthcoming. Be on the lookout!
7. Are you a voracious reader wanting to learn about cutting-edge topics from the author's perspective? We have a monthly, very enriching, opportunity to connect with global authors in a panel format. I attended the most recent session and had pages of notes and found inspiration for writing and entering new conversations. This is hosted by our affiliate, IGL UK. I recommend you register, and at the very least, watch the recordings to learn about how relevant organizational topics can shape how you lead and coach.
8. Want to give the gift of Generative? If you would like to introduce people to Generative Leadership, there is a digital program that we are offering for free to help spread the work. Thank you to Sameer Dua for creating this content.
9. The gift of learning: We are teaming up with many of you to support you in bringing generative practices to clients, and we have asked several of you to be a part of our delivery team. We are committed to growing Generative Leadership within teams, within organizations, and whole communities. Want to collaborate? Reach out to Fernando, IGL US Director of Consulting: frey@generativeleadership.co
Public Offers:
Save the Date!
The Qualities of a Strategic Leader with IGL Asia and IGL UK CEO, Sameer Dua
Friday, February 28th from 9 am -10 am ET / 6 am – 7 am PT
This free session provides a glimpse into what a Generative Leader focuses on. These are geared toward those who have not engaged in Generative programming and who want to get a sense of the conversations and learning Generative Leaders practice.
Stay tuned for more details.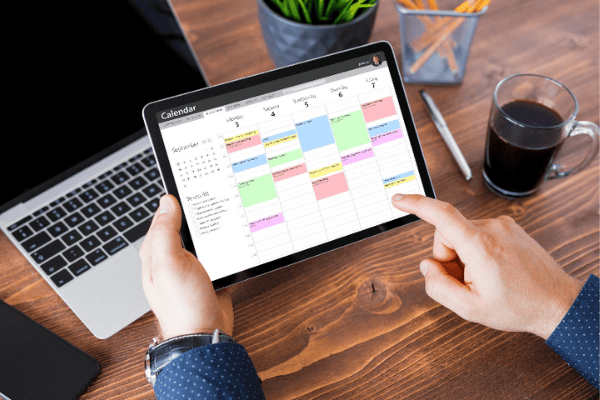 Community Conversations –
A Space to Connect, Practice, and Share.
Our community conversations provide a stimulating and nurturing space to explore conversations that we care about. We bring a generative lens that reveals new insights about ourselves and our shared experiences ultimately enriching our learning and our choices into a new future.
Next up: "Organizational Culture Through a Generative Lens" facilitated by IGL Community Member Eduardo Seidenthal.
Thursday, February 3rd from 12 – 1:15 pm ET / 9 – 10:15 am PT
This is a monthly occurrence and all are welcome!
Our upcoming Community Conversation is Organizational Culture Through a Generative Lens, led by IGL Community Member, Eduardo Siedenthal. Looking forward to 75 minutes with all of you.
YOU ARE ALL INVITED! Remember this conversation is open to everyone, you may also invite your friends and colleagues.
Students & Generative Program Coaches Corner
Exclusive to Students & Program Coaches
Year 2 & Year 3 Zoom Video Sessions with a Program Coach:
Back by popular demand, we have revitalized our previous teleclasses, now referred to as our Zoom Discussion Sessions! The conversations are led by our amazing IGL Program Coaches. This is an opportunity to go deeper with and focus on our Year 2 + 3 practices. This is now open to all of our IGL US CEO and GLP participants (previously for our CEO participants only).
Note to Y2 & Y3 Students: Please email Vaishnavi or Natalie to receive log in.
Community of Practice Conversations:
Newell Eaton led a rich conversation in January that allowed so many of our alumni to reconnect and be in practice together.
Please join us for our next conversation for the CoP2 for 3rd year students and alumni.
Next up: "Leadership, Leadership Coaching & Leadership Development – The Game within the Games," will be led by John Lazar.
Thursday, February 17th at 6 pm ET / 3 pm PT.
CoP2 builds on generative practices. Due to the rigor, we offer this space for Year 3 students and alumni. These sessions typically occur each third Thursday of the month at 6 pm ET. Please contact Valeria if you're interested in participating.
Global Corporate Solutions
As you know by now, we launched IGL US Consulting in partnership with IGL LATAM and IGL Asia & UK. We're delighted to report that we've reached over 30 US-based organizations, including school districts within this past year. IGL US continues to grow and provide opportunities to both students and grads.
If you have a bigger offer you want to make with a client, let us know. We will accompany you on your path and help you make a bigger offer. There are also ways to be a part of the offers we are making in the corporate solutions we are making. Do stay connected with us.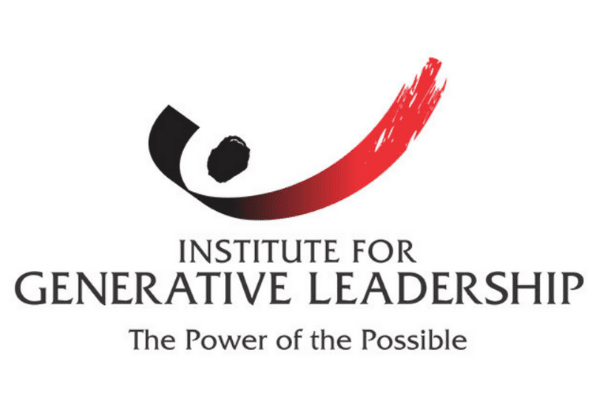 Connect with Us
Do you follow us? If not, check us out on Instagram @generateleadership. Would you like us to spotlight you? Reach out and let us know! You can write to this email abordenca@generativeleadership.co
Would you like to be featured in a future publication? Email Andrea above and she can let you know what we are looking for and see if this is a good fit for you!
At IGL Global, we are committed to creating a world in which everyone thrives, including the children of our children. We are fueled by our care to create a movement that brings the human being to the center of leadership. The generative discourse brings a higher level of awareness to us that we can create more meaning, value, and satisfaction in our worlds.
We are looking to connect people to others to build our network of help and to create bigger promises. Is there anyone within your network that would benefit from the learning we offer? If so, do share this with any and all people in your network!