December 2020
Welcome to the first of many "Community Happenings," where we bring you ideas, inspirations, and different ways to engage, including collaborating with members from our community.   
We think launching something new now, as a monumental year completes, is perfect timing.  Because, why not?
My intention is to grow our community through creating collaborative spaces, and through creating higher engagement in our live leadership sessions throughout the year.  
Think of this as an amplifier to generative voices. Our community members are generative practitioners who have their voice, and they have the future they are creating. This publication serves as the loudspeaker. We are here to amplify generative voices.
The key for this publication is generative application. We are here to demonstrate what generative leadership looks like in the world, in work, in life, AND to inspire more community engagement and collaboration. Enjoy!
Kyra Kennedy
Something that is at the heart of generative leadership is our connection to care. There is a cultural blind spot that perpetuates a story of driving hard to get results. This is often at the expense of self-care, of dignity, of relationships. At IGL, leaders accept the invitation to explore aligning internal care to external actions so we are not leaving ourselves out of the equation!
This brings me to Kyra Kennedy. Kyra is someone who has demonstrated her commitment to taking care. She has created the practices to take care of herself, her colleagues, her employees, her family, and her community.  
Here is a picture of her recent IGL US Leadership Certification. We are proud to have Kyra represent IGL Leadership in the world!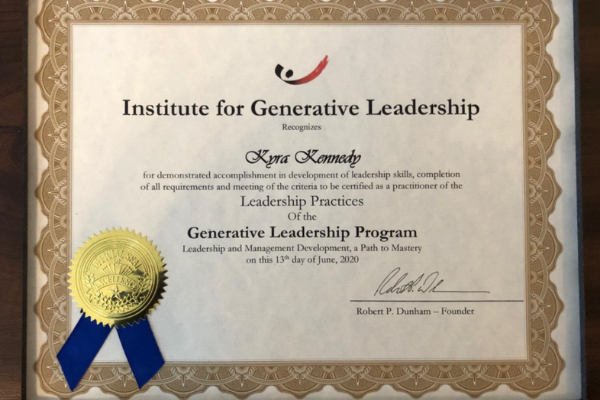 Kyra has personally donated $5,000 towards an IGL US scholarship fund.  
Our plan is to designate portions of this fund to several prospective students. If you are looking to deepen your learning and could use financial assistance, please reach out to me. Alternatively, if you know of others who do not have the funds, and are committed to leadership development, please let me know. 
We are grateful to Kyra, a June 2020 graduate of our Generative Leadership Program. Kyra has been a part of the IGL learning community for several years and, along with her business partner, Kyle Anderson, has sponsored several of her employees in generative leadership training. Kyra and Kyle are the co-founders of Baratza, a high quality coffee grinder manufacturing organization with a focus on consumer level grinders. They practice social responsibility and are committed to innovation. Check out how they are innovating here.
Thank you, Kyra.
Suzanne Zeman
Another change agent and innovator is Program Coach and IGL US Faculty Member Suzanne Zeman. 
Suzanne pioneered "Listening to Bodies Long Distance," a 6-week session that offers powerful and potent practices to deepen listening in all your senses as you work with others. We often think of listening as transmitting information. In this 6-week course, Suzanne offers a richer perspective to the dimension of listening and producing connection. Generative leadership is about embodiment. To have leadership presence, to produce listening, connection, and outcomes, whole body practice is required. Suzanne's course allows a safe place to challenge the habits that may be getting in the way of generating listening with less effort. 
I participated in this course so many times over the years that I asked to be trained in leading it! In each phase of life, the learning in this course reveals a new blind spot and a new place to practice. This is EXACTLY my experience with all of our IGL programs, the relevance in deepening learning is ALWAYS there at every phase of life's leadership journey.  
Thank you, Suzanne, for being open to adding this to our IGL US offers. What a gift!
Suzanne will be leading a course that kicks off January 19th and runs for 6 weeks. Info here.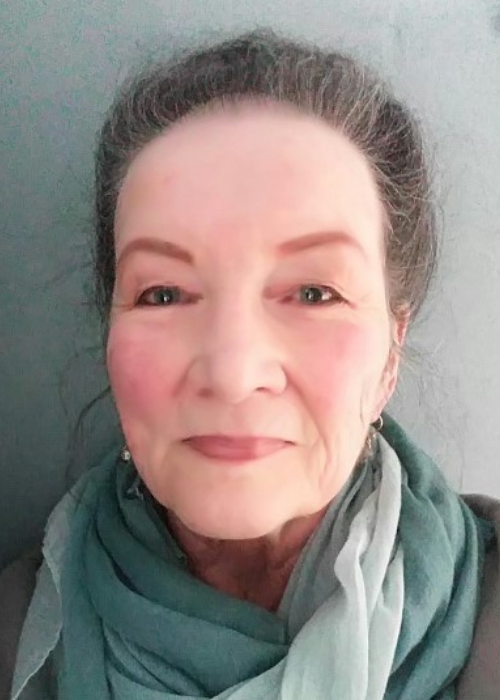 Jessi Kirley
Looking to collaborate? Community Member Jessi Kirley may be someone you want to talk to.
Jessi is a colleague and a friend of mine who was recently introduced to IGL US. She attributes getting clear on the offer she is making in the world to her learning during her Foundations of Generative Leadership participation, just this past summer!
She has since launched her new organization: JKirley Collective, an organization that is committed to creating a new way to tap into and embody dignity through collaboration. JKirley Collective defines dignity as "inherent self-worth." This is the core of the offer. 
If you are living an interpretation of dignity meaning showing up in a particularly poised way that involves a lot of suffering and pushing through life hard, JKirley Collective's upcoming half-day live learning session is for you! Check it out here.
IGL US and JKirley Collective have teamed up to launch "Dignity in Conversation." Come join a wealth of powerful leaders who will speak to finding their dignity and resilience through the challenges they encountered along their leadership journey. This takes place virtually 8 am – 12 pm ET on January 19th. I will be closing the day with a pragmatic, hands-on live learning session that brings the generative lens to dignity embodiment. Do join us! Jessi offers a "need-based pay what you can" option for those who need some financial support. Included with this is a peer session on January 26th! Come be in conversation with powerful leaders who are committed to bringing their dignity to their lives and showing others how to tap into their inherent self-worth. Learn more here.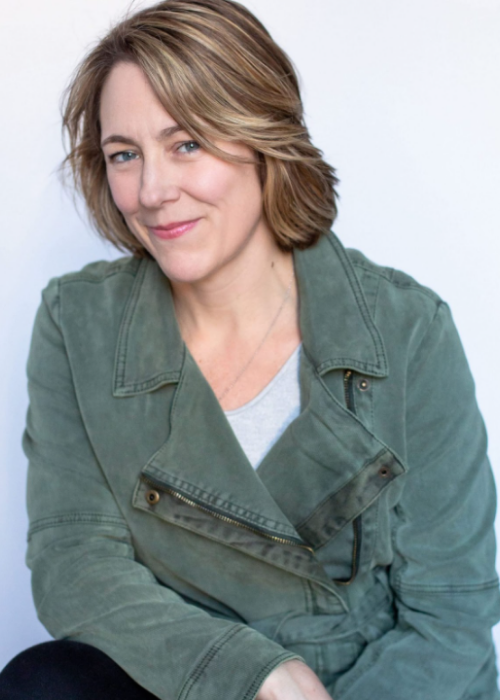 Jessi was featured in a December 18, 2020 article that mentions IGL US! Check it out here.
Do you want to share your story and offer with JKirley? Will a collaboration make sense? Check out her website and get in touch with Jessi to explore more here. 
Bruce Wilhelm
And speaking of collaboration, someone who has brought the superpower of co-branding and aligning is Bruce Wilhelm of Boldy Living Leadership. In October, Bruce made an offer to IGL US. He said, "if you offer a Foundations of Generative Leadership course in December, I will bring people from my network to you because I believe so much in this discourse." We said, "OK," and he did, he brought several people to us, and he himself fully participated in the learning. This was his third time within six months engaging in intensive learning with us.  
What is it about Generative Leadership that resonates with Bruce so much? It is a combination of the learning community and the richness of the conversations among those who participate at IGL, and also the illumination generative leadership learning brings to his life, including personal relationships, and, of course, professional relationships. 
Do you want to learn more about how to engage with IGL US to help us bring our offer into the world along with yours? I recommend reaching out to Bruce to explore this, he is an example of commitment-based action. 
Thank you, Bruce. You committed to increasing our visibility to your network, and you did. This allows more people to bring generative leadership in action to their lives and the lives of those they influence. IGL brings a higher level of consciousness, more choice, increased freedom, and a higher quality of communication, based on commitment-based action, rather than more activity. What a powerful gift to the teams you brought our work to. If you would like to learn more, please visit Bruce's LinkedIn here.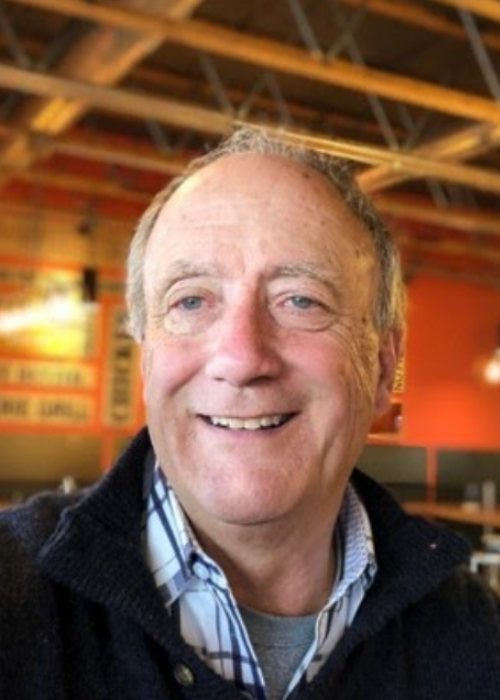 Croft Edwards
Next up is Croft Edwards, one of our Program Coaches here at IGL US. Croft has been a part of our community for several years and has shared with me how much he LOVES the generative lens because it is action and results-oriented. Croft is also a published author.
I am pleased to share Croft's book: Perfectly Square, which illustrates leadership in action through the story of a family business struggling to keep up with a quickly changing market. Croft shows how the power of identifying missing conversations creates new possibilities and new outcomes. This is something we practice at IGL that allows us to produce meaningful results. At IGL, we provide a structure that allows leaders to bring powerful conversations to people's lives. We also practice how to engage with others so there are relevance and connection, rather than talking at others and hoping we are clear.
Purchase Croft's book here.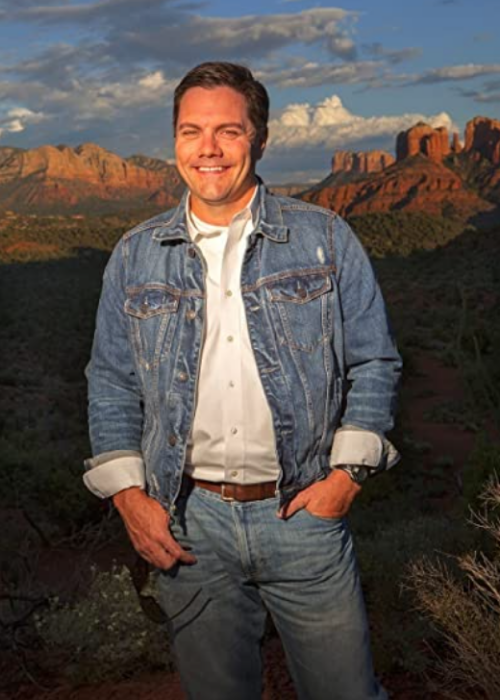 Peter Denning & Todd Lyons
Other goings on at IGL US:
Innovation! I am excited to have Peter Denning, co-author with Bob Dunham of Innovator's Way and Todd Lyons join the IGL US Faculty. Their 6-week course on innovation kicks off on January 20th. There is an advanced course being offered as well. Now is the time to innovate! 
Info on this new offer here.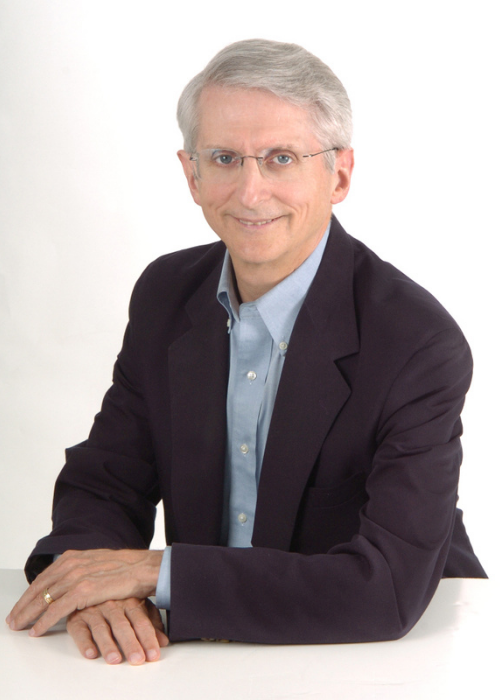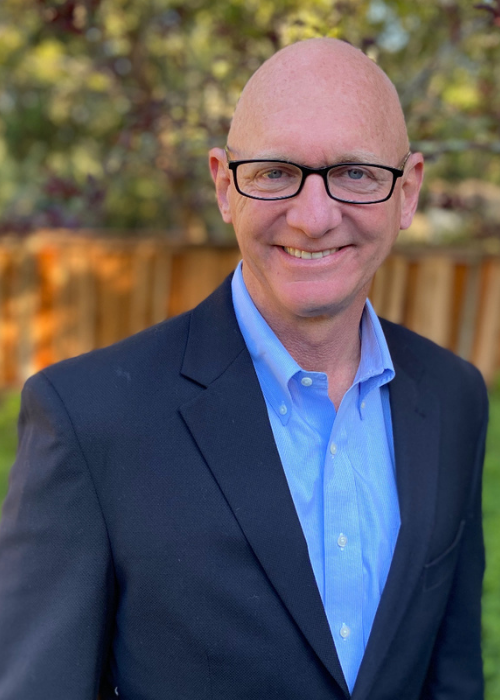 Youth Leadership
Youth Leadership – our Youth Leadership division "Lead Yourself Youth" brings generative leadership to education. 
Want to engage in generative learning AND have an opportunity to work directly with youth? We have opportunities for you! Reach out to me directly and join several members of the IGL community in creating powerful conversations with our future leaders!
The pictures below are from our youth leadership kick off this past November. I spy GLP student Lorna Gober & GLP student Cindy Gavrilles in these pics!
And follow us on Facebook here.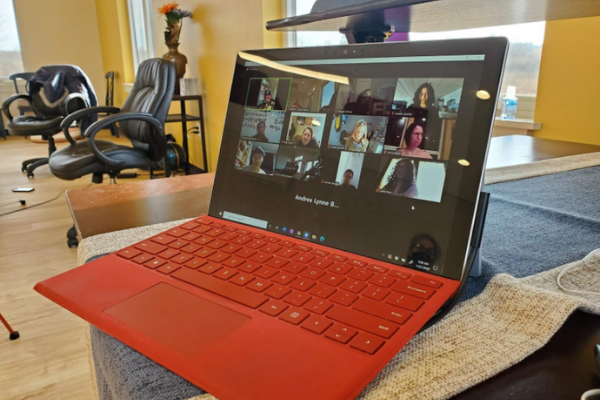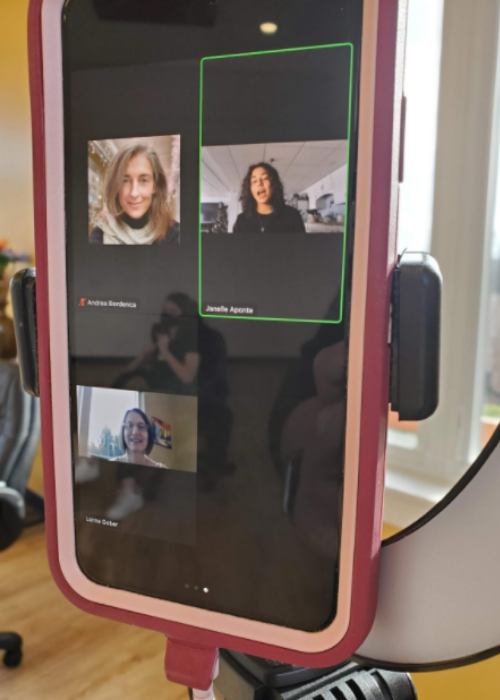 Stay Tuned
IGL is committed to growing together. We do this by creating learning spaces for leaders. Because not only is it lonely learning alone, it takes much longer for us to get to where we want to go. We are a community of leaders, coaches, and consultants committed to making a bigger impact. 
Stay tuned to learn about one of our community members and avid supporters, Travis Wilson, and his organization Noonday Collection. Noonday is a mission-driven organization that declares: "Together, we're building a flourishing world where women are empowered, children are cherished, people have jobs, and we are connected." 
Community member Andres Novoa to be highlighted next month as well and many other happenings. Stay tuned!
Connect with Us
Would you like to be featured in a future publication? Email us at info@generateleadership.com. I can let you know what we are looking for and see if this is a good fit for you! 
At IGL Global, we are committed to creating a world in which everyone thrives, including the children of our children. We are fueled by our care to create a movement that brings the human being to the center of leadership. The generative discourse brings a higher level of awareness to us that we can create more meaning, value, and satisfaction to our worlds. 
We are looking to connect people to others to build our network of help and to create bigger promises. Is there anyone within your network that would benefit from the learning we offer? If so, do share this with any and all people in your network!