People seek a Masters of Business Administration (MBA) for a variety of reasons.  Among them are 
Prestige, 

The hope of a better future, 

Career advancement, and perhaps 

A desire to run an effective business
What many fail to realize is that MBA programs are themselves a business, trying to secure more students into their course of study.  MBA programs found that adding "leadership" in their marketing could grow their enrollment.  However, leadership is invisible without the corresponding development of new skills. There is a way to address this gap, and I'll get to that below. 
Calling themselves Schools of Management, however, and promising practical leadership experience misses the fundamental need to develop leadership through practice. Knowledge is not enough – leadership requires practicing and building embodied skills in the domain of skilled human interaction. 
The essence of Generative Leadership is that it is a set of skills that can be seen, practiced, and mastered.
– Bob Dunham
Knowledge is not enough – leadership requires practicing and building embodied skills in the domain of skilled human interaction.
Jeffrey Pfeffer, a professor in the Stanford School of Business reviewed dozens of studies of the results of business school education and concluded "There is little evidence that mastery of the knowledge acquired in business schools enhances people's careers, or that even attaining the MBA credential itself has many effects on graduates' salaries or career attainment. [i]" This drives home our repeated assertion about the importance of keeping your eyes on what you really care about.
The biggest lie of the MBA is that business and organizational studies develop the abilities to be an effective manager, executive, leader, or entrepreneur.
If you want to develop actual leadership impact and management skills, then an MBA is unlikely to satisfy your concerns.
Prior to embarking on your next learning endeavor, you mush know and focus on
What do you care about?

What is most important to you?  

What do you want from your investment in leadership and management development? 
Pfeffer continues that "A large body of evidence suggests that the curriculum taught in business schools has only a small relationship to what is important for success in business. [i]" 
We have found that what's important for leadership and management success is to master the skills of generating commitment and coordination through effective conversations.  These skills are essential to results that matter.
What's important for success is to master the skills of generating commitment.  This happens through effective conversations that lead to the effective coordination of action
Pfeffer concludes that in many MBA's "there was too little attention given to developing leadership and interpersonal skills, and too little emphasis on communication skills.[i]"
Warren Bennis and James O'Toole, professors at the University of Southern California business school, wrote in the HBR article How Business Schools Lost Their Way: "Business schools are on the wrong track…business school faculties simply must rediscover the practice of business.[ii]"
Henry Mintzberg is a Professor of Management Studies at McGill University, and is considered a leading expert on strategy.  He wrote a book called Managers Not MBAs.  In it, he says The trouble with 'management' education is that it is business education, and leaves a distorted impression of management… we need to build the craft and the art of managing into management education and thereby bring these back into the practice of managing… conventional MBA programs train the wrong people in the wrong ways with the wrong consequences.[iii]"
Conventional MBA programs train the wrong people in the wrong ways with the wrong consequences.
– Henry Mintzberg
Some business schools have responded with…
More courses on communication

Emphasis on team projects

A focus on "capstone projects"
You learn after B-School that the perfect answer or strategy means nothing if you can't get people around you to buy into it and help you achieve it.
– Eric Jackson, on Forbes.com
One cannot tack on the development of management skills as a band-aid to a fundamental gap with the core to the design of a program.  Some Executive MBA programs are an exception since the participants are already practicing managers and executives who demand applications of the content in their participating companies.  These executives know the need for education and practice, but they are left to address the skills of coordination and conversation to themselves.
Education
and

Practice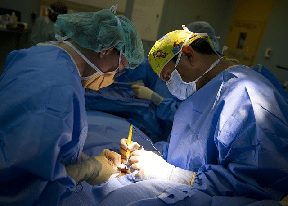 Contrast traditional MBA education with the way we train physicians.  We fully recognize that for doctors to succeed, knowledge alone is not enough.  They need to develop skills and experience through practice.
An effective leader or manager is just as important to the health of an organization as a doctor is to physical health.  That's why a Generative Leadership practice focuses so much on practice! And, what are the right practices for leadership and teamwork, and how to engage in them.
The development of management and leadership skill, actual hands-on skills that make a difference in the performance of teams, organizations, and companies have been the focus of the Institute for Generative Leadership (IGL) since 1993.  I believe leadership is a full-contact sport, where leaders touch people at a psychological, somatic, and emotional level in the creation of commitment.  I hope to see the discipline of Generative Leadership – where these skills are developed – in business schools someday, but for now, it is available in the Generative Leadership Program offered by the Institute.
Leadership is a full-contact sport, where leaders touch people at both a psychological and emotional level in the creation of commitment.
Generative Leadership  – A Focus on Education and Practice
http://www.youtube.com/embed/-Wp0QiJ4FGQ
The Generative  Leadership Program starts with a three-day workshop where together, we develop a new set of lenses through which you can see new possibilities and new choices for action in your world.  In a very literal sense, these are three and a half days to a new future – your future. We work with practice and prepare for practice, the only way to develop skill rather than just understanding concepts. You are given the practices to continue after the workshop on a path of learning and mastery. 
In Generative Leadership, practice and application are part of the core design
The Generative Leadership Program is designed to …
Elevate the measurable leadership impact of participants
Through explicit development and practice of management and leadership skills on the job
You then apply those skills to what you care about with whom you want to make a difference:
Teams
Organizations
Companies
Communities
Even families
The development of skill is done through practice…
Working with your real work and life commitments
Applying your learning to what you care about
Working with teams you lead, or where you are a member
You get Personal Coaching and it organizes participants into leadership and learning teams. The program allows participants to integrate new practices and skills into their skill sets, and focuses on topics such as:
Care and Commitment
Capacity Management
Getting Offers Accepted
Team Conversations
Breakdowns & Planning
Power & Politics
Organizational Change
Value Creation
Leaders who are already successful produce the greatest results from their learning in our programs

I invite you to explore and deeply commit to what you most care about.
This is not an MBA program.  It's better.
Come learn with us!
Citations

[i] Jeffrey Pfeffer,
Professor Stanford Business School, and Christina Fong, PhD candidate, The End of Business Schools? Less Success Than Meets the Eye, Academy of Management Learning and Education, Volume 1, Number 1, September 2002.
[ii] Warren Bennis and James O'toole, How Business Schools Lost Their Way, Harvard Business Review, May 2005.
[iii] Henry Mintzberg, Professor ofManagement Studies, Managers Not MBA's,
Henry Mintzberg, Barrett-Koehler, 2005.
Eric Jackson, The Ten Biggest Lies of B-School, Forbes.com article.